Bschool admissions are tricky. Good applicants are denied admits, not because they didn't deserve it, but mainly because they didn't approach it in the right manner.
But regardless of the results, top MBA applications can still teach you a lot. For Utsav, it was grit, determination, passion and persistence. He got into a top business school in USA after 3 long years, as a reapplicant going for a second MBA. Here's his full story.

---
How I got into Michigan Ross MBA with scholarship
by Utsav Basak
The will must be stronger than the skill
– A quote by Mohammed Ali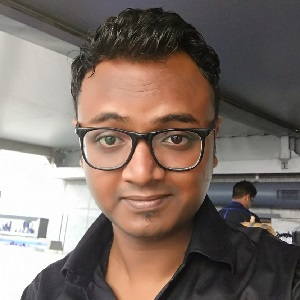 A saying that I had once, by chance, come across and decided to take to heart.
I wouldn't say I was the top dog when it comes to skill because throughout my application journey, I've done things that, in hindsight, were stupid mistakes and led to abject failures.
So, I guess the saying rang true for me since, in all probability, it was 'will' all the way.
My family wasn't one that had a history with higher education and up until 10 years ago I could count on the fingers of one hand the number of people I knew who had spent 3-4 years in a college.
Read another story of how a candidate from a less fortunate background with big dreams got into India's best business school.
And the same fact made me feel I wasn't cut out for anything higher education related.
My academic scores ranged between 80-89%. The 90% mark was a magic number that I was never able to reach. Academically I believed myself to be quite average up until the time I finished my engineering.
I completed my B.Tech. from local college in Kolkata under WBUT, which many might not know about, however I would like to impress that sometimes such places choose to play host to remarkable experiences.
I chose to pursue an MBA right out of B.Tech as a fresher and that was a very controversial decision to say the least.
I was a General-Engineer-Male candidate, not from an engineering college with great renown and without any significant experiences or brands on my resume.
The sole reason I was going for an MBA was because one of my friends back in school was doing it and he asked me to be his study partner.
I still consider him to be the person who managed to wake something ambitious in me for the first time. While studying I realized that I wasn't half bad, and perhaps I could 'bell' the CAT.
I joined Career Launcher (CL), because he had joined it (yep, I didn't do any research at all). And I went there every weekend partly because I was studious and wanted to get my money's worth and partly because going to Palk Street in Calcutta every weekend and hanging out with your friends was super fun.
The only reason my forever 'short-of-money' father, who ran a one-man business of furnishing houses, agreed to shell out INR 30K for CL was perhaps because that was the first time his only son asked him money for something other than 'ayyashi'.
Then, not being the kind of person who kept a lot of tabs whilst giving money to his only son, he forgot about it.
Looking back at it, I'd say I was too immature to be serious about the whole thing. Even my parents never really asked me what I was doing because: firstly, they had no idea what an MBA was and secondly, they were too busy to care.
They described it to relatives as 'Wo kuch toh padhai karne jata hai weekends ko' ('he goes off to study something over the weekends'). They were happy as long as I wasn't getting myself arrested or killed. The best thing about my background was that I had nothing to lose.
No-one really had a lot of expectations from this CAT campaign. It was a blessing in disguise for I had no pressure and wasn't letting anybody down if I failed. I studied seriously (and for crazy hours) for just the last 1-month.
The biggest lesson learnt was to always attend coaching with your friends, because it's fun and you don't get intimidated by those who seem smarter than you. One can brush away the feeling of inferiority by making fun of these 'know it alls' over Chai conversations during the breaks.

Over 99 percentile in CAT, but zero IIM calls
CAT results came in and I ended up getting a 99.32 %ile. I know there are those who score much higher than me but I was stoked!
To me, I just smashed the CAT! I was going to go to a top IIM, get a high paying job, woo the girl I crushed on and successfully live happily ever after.
But as Thanos stated, 'reality is often disappointing'.
I received 'zero' IIM calls other than Shillong (In 2010, Shillong was new and was more like a new IIM) and the new IIMs (No mean feat but I was young, naïve and expected more). I however, did manage to get quite a few admits here and there.
I was either taking on a job in TCS with an annual CTC of 3.16 lakh per year or doing an MBA. And to be frank somewhere in there I knew not to tempt fate, god doesn't dole out 99+ percentiles to folks like me again and again.
I secured an admission at one of the leading IITs for their MBA course. I was happy enough. Post that MBA I got a job at a leading bank in their IB/Treasury division.
I was responsible for selling debt instruments (Bonds or Non-Convertible Debentures as they are referred to in India) to investors (think mutual funds / PEs / family offices / institutional investors).
I developed multiple skills: how to look, act and talk business. I learnt how to develop pitchbooks, analyze companies and interact with multiple stakeholders to align them for a particular cause.
Most of all, I cultivated how to be articulate and be expressive of my views in a professional but persuasive manner.
I managed to go on 2 international study tours or 'Summer Schools', back in IIT and that is where the seed of trying to go abroad for studies got planted in my mind.

Second MBA dreams
Initially it was nothing but an ephemeral fantasy, and I though it wasn't something I'd probably end up doing.
To add to that the huge price tag of an international MBA (Around INR 1.5 crores for the full 2 years) was something not meant for people hailing from lower middle-class backgrounds with household incomes if less than INR 2.5 lakhs per year.
With time, however, my insecurities got erased. Now I was earning very handsomely and somewhere the seed had taken root. I started to really take this dream seriously during my second year of employment itself.
I, once again, had no clue on how to go about this.
Extracurricular wise I had a few strengths, as well as weaknesses. I had held several administrative positions in the student government at IIT.
I also had multiple internships under my belt at several big-name companies as well as innovative start-ups. I managed to rank highly in a few national and international corporate competitions.
I was also involved with multiple NGOs back during my engineering days and it formed a part of my application.
My top concern initially was targeting the right schools. I already had a pleasant situation work-wise here in India and given the work-permit and visa issues I did not want to break something which wasn't broken in the first place.
So, I knew I had to target the schools which could give me the right RoI and had the ability to land me a good job despite me being an international.
Again, that decision also needed to be driven by my stats and GMAT.

GMAT experiences
The first time I gave my GMAT I got a 710, which was way below what was required for internationals at top schools. I was running a fever that day, so I blamed it on that and decided to try again.
Second time around I got a 730. Again, not enough, for in order to land a top school, as I learnt later, one had to score around 750 and above being an Indian.
I applied with 730 to a few schools, but was rejected at each of them in my first application year.
The second time around I realized I needed to change strategies. The GMAT's adaptive scoring was not working for me.
It was difficult for me to accept that it was beyond me, and I still hold that it was not, but I didn't want to sit for GMAT for a third time.

Switching from GMAT to GRE did the trick
A friend recommended I try the GRE. He was a classmate from IIT who went on to do his PhD from an international B-School. I took his advice and wrote the GRE twice, both times scoring in the range of 330-335.
Online GRE to GMAT converters stated that the score was equivalent to a 750-760 GMAT.
I wasn't convinced that the schools looked at the GRE with the same reverence as the GMAT, especially since their rankings depended on a high average class GMAT. Still, I felt I had better chances with the GRE.

Test prep materials
For prep I mostly used the OG (For both GMAT and GRE), 5lb book of GRE practise problems, Manhattan GMAT books, EGMAT and Target Test Prep (TTP).
I'd definitely recommend e-GMAT for those weak in Verbal and TTP for those weak in Quants.
I also used the Magoosh word app which I found was great for learning GRE words. Between Magoosh and the 5 lb book I believe most words for the GRE get covered and one wouldn't need any other resource.
The other concern I had was my prior degree in Management. Some would consider getting an MBA redundant, and I would have to make a convincing case as to why I needed another Masters degree in Business.
My final concern was that although my job role was good, it was at an Indian Bank and despite being a household name in India, it was not a 'huge' international brand.
To sum up, my profile was riddled with problems, a GRE score and not a GMAT score, no international brand-name employer, and a prior degree in management that would require much explanation.

Professional consultants vs ApplicantLab vs friends
I preferred professional admission consultants, and not personal friends and acquaintances to review my application, because I didn't really know anyone who went to a top B-School.
And I wasn't sure if their limited experiences would help me the same way a good consultant's diverse and varied set of experiences would. Especially since my circumstances were quite unique.
Initially I was skeptical of working with MBA admission consultants and the exorbitant price tags.
So, during the first round of applications I used Applicant Lab, which was great.
I had always been quite confident in my writing abilities and I was mentally treating the first application cycle as experimental. I knew that my stats were below average. With a GMAT of 730, and the other concerns that I had mentioned I wasn't confident.
But I wanted to apply that season and didn't have any more time to give the GMAT/GRE again or improve my profile further.
Needless to mention, I got rejected!
Second time round, I still had my subscription to Applicant Lab (it's a 1-year subscription and doesn't expire soon).
But I decided I needed a bit of personalised help from a consultant.
I felt perhaps there were some chinks in the armour that needed strengthening. I looked at admissions consultants from both overseas and those mostly based out of India.
The foreign consultants were immediately cast aside looking at the price tags of their MBA consulting services.
However, I must add that Applicant Lab is a wonderful resource that one, if he/she can afford it, should definitely keep in his or her arsenal.
I reached out to a few consultants in India through emails and called up a few more. Most of these conversations felt too professional and package/pay—based.
A few wanted me to book a paid session with them in order to have the preliminary discussion and didn't really feel focused on what I had to say.

Time for a little crystal ball gazing
I knew about MBA Crystal Ball from my Google searches since my initial days. I'd read their MBA blog posts before.
When I applied first time with my GMAT 730, I remember talking to Manish Gupta and he had discouraged me from applying to the few schools I was considering applying.
After the first cycle I realised his prescience was correct since I didn't come out with any admits.
The next time when I started looking to apply, initially I was conflicted about reapplying for an MBA. I thought, especially after the last failure, that perhaps going through the MS route was the more logical option.
MBA was always my preferred course, but I wanted to taste what education abroad offered and given past experiences, the MBA-dream had taken a hit.
I reached out to Manish again and told him of my new GRE scores and renewed agenda. This time however, Manish told me to consider fighting for the MBA rather than an MS.
He also informed me that the GRE score I had was good and I shouldn't worry about the GMAT vs GRE conundrum. This assurance renewed my hopes for an MBA.
I signed up for just one school (CV, Essay, Recommendation consults), and the assigned consultant, Shantanu Joshi, proved to be a pillar of support.
Although I booked his services for just 1 school, he never made our interactions strictly professional.
He acted as a friend and I felt as if I could always give him a call if I found myself in a sticky situation. I ended up having a few short but crucial conversations for a number of my applications.
He was even kind enough to review a few pieces I wrote for waitlist updates at schools other than the ones I signed up for.
I think the most important contribution Shantanu had was re-wiring my CV to make it suitable for the US MBA process.
Another huge contribution was his appraisal of my past experiences in which he helped me choose the best ones to highlight in the essays.
There were many moments in which he managed to identify achievements and spikes which I hadn't considered highlight-worthy initially.
I'd say to aspiring candidates that if you are not getting a good vibe from the consultant you are considering, or if you feel, after a few phone calls, that they are getting impatient or making conversations too professional then chances are that during the process you'd feel hesitant about calling them. And that is never a good thing.
The process itself is daunting enough, and if you are not feeling a sense of familiarity and ease with the prospective consultants then chances are that you'll have a bad experience later on.
You've come this far, and I am sure your writing skills are already at an advanced level, you just need some fine tuning and guidance.
A consultant cannot make or break your application. So, no matter how good they seem on paper, if they are unapproachable then you won't be able to extract what you need from them. You won't be able to benefit from their coaching.
As I've mentioned earlier, I had spoken to Manish multiple times and over a good length of time before choosing MBA Crystal Ball.
In the first conversation he said he wouldn't be able to help me without my GMAT score, which kind of disappointed me at first but in hindsight I recognize the wisdom of that advice.
The second time he told me that my score and profile were perhaps not good enough, another instance that proved to be prophetic as I struck out in that cycle.
In the final cycle I had reached out to him for an MS, but he asked me to 'now' consider the GMAT. And he was right yet again as I managed to secure an admit from a top 10 US BSchool.
Because of this, I felt that MCB wasn't just about getting a customer but doing what's right for that customer. Thus, interactions with your prospective consultant is crucial.

Tackling the profile challenges
I knew that my profile probably had all the drawbacks that one could have. Indian candidates are an over-represented pool, and classes in B-Schools overseas are selected based on a quota system for multiple countries.
If one has a 40-student limit for Indians (to preserve the diversity in an MBA class) then you are fighting for those 40 seats and not however many seats the school might have overall. Thus, that was something working against the whole pool.
Finance, which was my background, was again over-represented among the Indians. Top that with a GRE score instead of a GMAT, and an existing Management degree and we have the perfect storm.
So, my strategy was to cast a wide enough net. I had applied to 12-schools, which might shock a lot of you but it worked. I applied in a number of geographies targeting the best schools in those geographies.
I reckoned that the schools outside the US had lower GMAT averages and I'd be more competitive there. So, I ended up with 10 US schools, 1 Canadian, 1 French.
Another challenge that I had was reaching out to current students at respective schools. I'd say the success rate on Linkedin is 1/15.
It is easier to reach out through emails to the position holders at clubs/societies in these respective schools.
I didn't know a lot of current students at any of these institutions. Initially it was daunting but it got better after a few interactions as I got more used to it.
The thing to focus on during these conversations is knowing how to glean those points/offerings that the program is proud of.
Once that is done, one could tweak the profile to highlight achievements/motivations germane to those offerings. I learnt of special programs, initiatives in each school which they deemed as their pivotal offerings.
It helped me curate my application better and also prepare for the interview. One should always have a script for at least each school, developed after online research on which topics to talk about.
It is better if this script is updated for each person you are talking to, taking into account his/her backgrounds and affiliations.
The biggest asset from this exercise is that you can drop these names in your essays or during your interviews which adds a measure of credibility to your level of research.
It is also important to visit the school's webinars and events that are conducted online as well as in person here in India.
Sometimes coffee chats are organized with certain high-level members of that school (such as deans) right here in India, and those who visit these chats receive a special code that waive off the application fees.
Such fees are typically between INR 10,000-20,000 so keep an eye out for these events as they can be a huge money saver.
It also gives you talking points when you are trying to express your interest in the school both through the essays and the interviews.
I prepared for interviews myself, and took help of the multiple blogs and material available online. I practised in front of the mirror.
I used to play out these interviews in my mind, going over various situations and tried to anticipate the direction where each of my answers might lead to.
I also formed a repository of questions that were asked in each school. I broadly found the online interview prep resources and tips to be accurate.
People should definitely go for interview prep from professionals if they feel that they don't interview well. I am sure that aspirants have gone through interviews in the past and would have a fair idea of where they stand.

Application Results
12 Applied
6 Interviews (2 M7s)
3 Waitlists (1 M7)
1 Admit (Top 10) with USD 30,000 Dollar scholarship
Although there were lots of disappointments along the way, I feel my strategy worked. I knew I was going to be a borderline case.
And one of my waitlists gave me feedback that I needed to explain my need to get another business degree better. Thus, the pitfalls I had identified were real.
But again, one has to compensate for one's profile. I felt that given my drawbacks I had to take the financial burden of applying to a wider range of schools, especially if I wanted to land a top school.
One of the top reasons why I had to apply to so many places was because I did not go with the conventional wisdom of having 'safety schools' per se.
It is true that my non-US applications were the ones I mentally treated as safeties but at the same time those too were top Unis in their respective geographies.
Mentally I wasn't going to go for an MBA if it were from an institution in which job prospects became a bit questionable. Given a situation like that, I'd prefer my current job and life here in India.
Thus, all the schools I chose were extremely competitive. I know that it goes against conventional application wisdom, but in hindsight, I only had 1 admit out of 12, so the strategy paid off.
Granted my solution was unconventional, but then my profile didn't help things and it suited my situation. So, I believe that despite all the advice out there, one should craft his own application strategy based on the 2 criteria:
Calibre of school targeted: I targeted the best of the best.
Strength & confidence on your own profile (GMAT Score, Current Employer, Job profile): I didn't have much confidence.
Financial dry powder you have lying around: I had a good job, and had enough means to finance such an endeavour without seeking help from my parents as long as I controlled my extraneous expenses.
I know currently there is a crisis looming over us in the form of a pandemic. But it hasn't affected my decision of pursuing this MBA.
I've spoken to a number of current students and according to their estimate things would look much better in the coming years when the upcoming class will pass out.
However, I am keeping a close tab on the situation and will respond to events as they develop.
My extra-curriculars were strong with internships at a few Fortune-500 companies. My job experience was perfect for a post MBA role in IB/Finance as I had multiple billion dollar deals under my belt.
I think these helped move the needle in my favour. I did not visit many coffee chats or events held by the B-Schools here in India, and I think that it was a mistake.
Now that the process has concluded after a long 3 years (1 prep, 1 unsuccessful, 1 successful), it's a euphoric feeling. I think very few people can experience the feeling of euphoria and goose bumps that I felt when I got that conversion call.
It was a hard-fought victory and it definitely tasted sweeter because of its initial impossible nature.
I have gone through so many highs and lows during this process that, now that I've experienced it, my life would forever remain incomplete without it.
It helped me recognize strengths that I never thought I had. It taught me grit, determination, passion and persistence.
The process has left me a wiser man and those on the edge should definitely go through it because at the end of the day, nothing ventured, nothing gained.
Finally, I'd like to reiterate the thought I expressed in the first line, the will to do it is most important.
Because there comes instances in the cycle when you just feel like giving up, especially if your present situation is comfortable.
And if you don't have the will, nothing will fructify. It's too easy to end up not giving your 100%.

---
Also read:
– MBA reapplicant stories