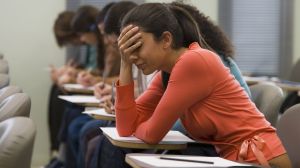 You've dreamed of getting into the IIMs (or XLRI, MDI, SP Jain, add your dream school to the list) all your life. You drew inspiration from successful folks who cracked the toughest entrance exams to get a seat and proudly shared their stories on discussion forums.

You attended all the CAT coaching classes though you felt they were exorbitantly priced, burnt the midnight oil (and wondered later why you didn't just switch on the light) and did everything in your power to get a call from the top management institutions in India.

But like many good, deserving candidates, the top Bschools in the country only had a few seats on offer and the rush to grab them was crazy.

Every year, when the results get announced, discussion forums start buzzing with activity and bring many website hosting servers down. Along with it many hopes and expectations crash as well.

A relatively small number celebrate their success, while a huge majority of candidates don't end up being as lucky.

Disappointing, and to an extent, unfair as well as it all seems to come down to ridiculously high cut-offs for the top schools.

After a while, many of these fighters get up, dust themselves and move on.

But for many, the desire to get the MBA degree on their resumes is so strong that they immediately start thinking about international programs.

Some feel that the road to an MBA abroad is less painful that getting one in India where there's so much competition.

As an admission consultant, I get approached by many such candidates each year who don't want to 'waste' more time in India working at the bottom of the pyramid.

Many think it's going to be useless to gain experience in a field that they are going to discard anyway in a few years.

A better option from their perspective is to take the GRE or the GMAT, take the next flight abroad, spend a couple of years in phoren land completing their MS or MBA degrees, and get multiple job offers at the end of the course.

For MS (Master of Science, Masters in Science, take your pick) degrees, the process is different and we will not focus on that arena here.

Unfortunately, when it comes to the MBA degree that's not how it ends up for most people. The international MBA scene is quite different from what we are used to in India.

The top schools expect candidates to have gained a considerable amount of experience in the real (as opposed to the academic) world.

They do insist on a strong GMAT score (though the format is different, just like in the CAT, you'll be tested on verbal and quant concepts), but a very high test score may still not open the doors of the elite programs.

There are other aspects that they will consider. For starters, there is your work experience, recommendations, a resume and the final icing on the cake – the business school interview.

If you are serious about applying to a top international MBA program, start becoming familiar with the application process.

Visit the websites of the top ranked schools and see what they are asking for.

Are there any pre-requisites or cut-offs?

Check out the average student profiles and see how close or different you are from those profiles.

What you want to do during and after the MBA program is as important as what you have done before getting into the classroom.

We have touched upon each of these aspects in the different posts on our MBA blog. So grab some coffee, get some biscuits (skip the 'too sweet & too creamy' ones please, not good for the health), stick around and explore our site.

Reach out to us if you are confused and need some personal and confidential career counselling.